Artist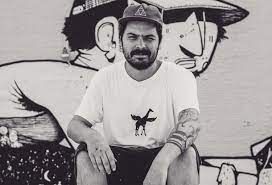 Alex Senna
展覽論述:
「我們活著。」
對你而言什麼是重要的?什麼事對你來說是值得的?
在2020和2021這樣動盪、騷亂的年代,所有事物皆變換與境遷,現實生活也早已今非昔比不如曩昔,但儘管如此,我們依然活生生地活著。
在這充滿了紛擾困惑的時刻,我反而更加靠近這些生活中的質樸和簡單。
其中一些是如此地微不足道,以至於顯得他們無關緊要,但正是這些地方和人們使我們回憶且啟示過去的經歷與活過的一切,他們是日常生活的微小樣本—-如同每日的果汁一般,單純卻有價值。
在這次的展覽中,您會在12張畫布上看到:我這過去十年間,從提筆創作開始到現今的一切歷程。繪畫本身不僅探索著插畫、紋理層次更甚到了媒材上的噴漆與壓克力,他們與作品本身相互共生與完善,無論是透過他們講述的故事或是所承載的美學感知。
畢竟,"我們活著且存在"。
——
We live
What is important to you? What do you remember that is worth it?
In turbulent years like 2020 and 21, everything has changed and transfigured. Reality was never the same again. And despite it, we still live.
In this moment of doubt, I got closer to simple moments in life. Some of them are so trivial that they seem irrelevant. These places and people are memories and reminders of everything that I've experienced, that we've lived. They are small samples of common life, an everyday juice: simple and valuable.
In this exhibition, you will see scenes from the last 10 years presented in 12 canvas: memories from when I started painting up to the present day. Paintings that explore, in addition to the illustrated theme, textures and layers, spray and acrylic paint. Screens that complete each other, whether by the story they tell or the aesthetics they carry.
After all, "we live".
Works