Artist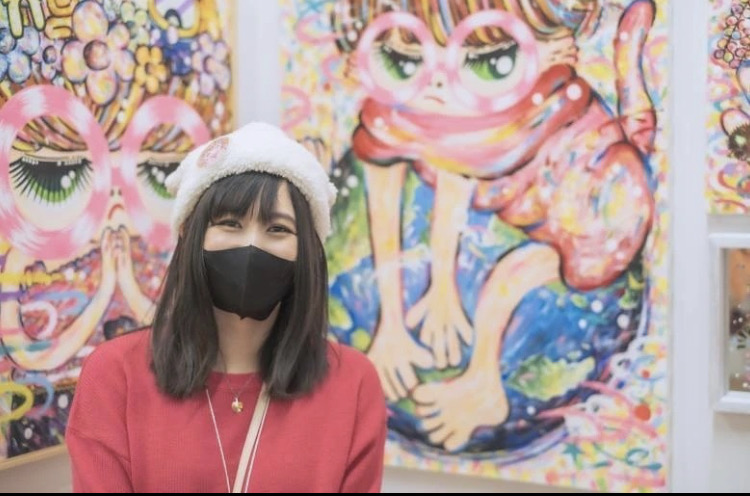 Bell Nakai
Bell Nakai是一位沒有上過藝術學校卻富有繪畫天分的畫家。
2019年初開始繪畫,運用非凡的繪畫技巧將所有顏色個別混合。她的創作邀請到一個可愛和憤怒並存的流行文化風格的世界,讓她的藝術充滿樂趣、生動,易於理解這些構圖的靈感來自日本少女漫畫和普普藝術,她將細膩的平面繪畫和喜歡兒童藝術的動感結合在一起,形成了自己的普普藝術風格。她的創作不僅僅是作為肖像呈現,同時也是分享。雖然鮮豔的色彩側重於快樂和可愛的感覺,但有時你會發現在她的眼鏡下隱藏著人們的不滿。在人們沒有真正自由地表達出自己誠實話的社會中,這往往流露出悲傷和憤怒。「我的女兒們,雖然她們是個小孩子,但她們是現實中的你和我」。
2019年作為一名自學成才的當代藝術家,在藝術收藏家的推薦下,她在東京的一個聯展上展出。隨之引發增加了日本和海外的活動。基於日本獨特的"少女漫畫"和"流行文化"的表達,她拼命嘗試吸引某事,同時製作多彩可愛的女孩主題。創造世界查看可愛和窒息並存的地方,結合挪用的手法,表達了一個簡單而現實的世界。主題是"自由、有趣,有時還有些激進"以及她在日常生活中的感受。 2021年倫敦首場個展,首日即售罄。
中居ベル、豊かな表現力と絵画の才能を持つアーティスト。専攻としての美術学校には通っておらず、2019年の初めに絵を描き始めた。非凡な画力で全ての色を個別に混ぜている。
彼女の作品は、ポップカルチャー風に可愛らしさと怒りが共存する世界を誘い、楽しく、鮮やかで、わかりやすいアートである。
これらのコンポジションは、日本の少女漫画と最近のコンポジションアートの混合からインスピレーションを受けている。繊細なフラットペインティングとダイナミックなタッチを組み合わせて彼女自身のスタイルを創り出した。彼女の作品は、単なる肖像画としてではなく、Appropriation Techniqueを採用することで、私たちの日常生活のいくつかのストーリーを共有している。
鮮やかな色使いは、幸福感やかわいらしさを強調している。主体の少女の眼鏡の下には人々の不満が隠されており、そこには本音を表現する自由がない現代社会の悲しみや怒りが垣間見える。
「私の娘たち、彼らは小さな子供かもしれないが、現実にはあなたと私の両方なのだ」。
Bell Nakai is a painter with a talent for painting who has not attended art school.
She started painting in early 2019 and uses her extraordinary painting skills to mix all colours individually. Her work invites a world of pop culture styles that are both cute and angry, making her art fun, lively and easy to understand. The inspiration for these compositions comes from Japanese girlie manga and pop art, and she combines delicate graphic painting with a love of children's art dynamics to form her own style of pop art. Her work is not only presented as portraits, but is also shared. Although the vibrant colours focus on happiness and cuteness, sometimes you can find people's discontent hidden under her glasses, which often reveals a sense of sadness and anger in a society where people are not really free to express their honesty. "My daughters, even though they are children, are the reality of you and me".
In 2019, as a self-taught contemporary artist, she exhibited in a group exhibition in Tokyo on the recommendation of an art collector. This has led to an increase in activity in Japan and abroad. Based on Japan's unique expression of 'girlie manga' and 'pop culture', she desperately tries to appeal to something while producing colourful and cute girlie themes. Creating a world where the cute and the stifling coexist, she combines appropriation to express a simple and realistic world. The theme is 'free, fun and sometimes radical' and how she feels in her daily life. The first solo exhibition in London in 2021 was sold out on the first day.
Works