Artist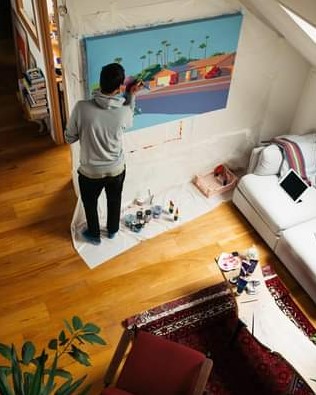 Timm Blandin
Timm Blandin (b.1987) is a painter who lives and works in Haute-Savoie, eastern France.He entered a school of applied arts in 2007, where he studied Graphic Design, graduating in 2012. The growing digital environment is developing his interest in computer-aided design.For him, it's a key tool for composing, mixing and harmonizing creations from a variety of techniques. Software offers more and more possibilities and speed in creation.His return to painting is motivated by a need to materialize a creation, to return to the time of action versus the time of calculation typical of the digital universe. Passionate about photography and drawing before the discovery of software, Blandin naturally gravitated towards figurative expression. He works on canvas and paper with acrylic paint, combining oil pastel, pencil and felt-tip pen.
The interplay of light and shadow is an important part of his work. His palette is vibrant and dreamlike, divorced from the mimetic role of color. He combines flat tints, transparency and superimpositions to structure his compositions. Shapes are simplified, geometrized and lines marked. Chromatic intensity is accentuated. The graphic treatment of his works reveals a digitization of painting. He mainly paints landscapes and scenes of everyday life. Blandin's universe is colorful, immersive and contemplative, suspended in time between dream and reality.
In this exhibition, Blandin takes us on a stroll through memories, travels and dreams of new horizons. His luminous, dreamlike landscapes invite the viewer to contemplate. Focusing on the harmony between man and his environment, he presents us with habitats conducive to the search for balance and tranquility. Taking the time to admire or feel beauty is a cornerstone of his artistic intent.
Timm Blandin(出生於1987年)是一位居住在法國東部上薩瓦省(Haute-Savoie)的藝術家。他於2007年進入應用藝術學院就讀,專攻平面設計並於2012年畢業。隨著數位環境的不斷發展,他對於以電腦輔助設計的興趣也日益增加。對他來說,這是一個非常᯿要的工具,可以從各種技術中進行組合、混合和調和創作。設計軟體也為他提供了更多可能性和提升創作效率的方式。
Blandin新接觸繪畫的原因在於他對將創作物質化的渴望,他的創作思維來自於單純且典型地將時間與行為ᰁ化後的數位宇宙觀。在接觸設計軟體之前,Blandin早已對攝影和繪畫充滿熱情,也自然而然地發展出對具象表現的獨特風格。他使用丙烯顏料在畫布和紙上進行創作,並結合了油性蠟筆、鉛筆和彩色筆。
光影的交錯是Blandin作品中的᯿要元素,他的作品色調充滿活力和夢幻感,跳脫了僅僅模仿自然顏色的思維。他同時運用平塗、透明度處理和᯿疊等技法構成作品。形狀的呈現方式則簡化、幾何化並凸顯線條的方式來強化色彩的強度。圖像處理方式也展示出將平面繪畫數位化的視覺感。他主要創作風景和日常生活場景。Blandin的作品世界豐富多彩、身臨其境且充滿省思,懸浮於夢幻與現䋿之間的時間中。
在這次展覽中,Blandin帶領觀賞者漫遊於回憶、旅程和追求全新視ᰀ的夢想中。他明亮夢幻的風景作品引導觀賞者沈浸反思。他專注於人與環境之間的和諧,呈現給觀賞者平衡和䌀靜的清修環境。他專注於欣賞和感受美,這是他對藝術創作的堅持與初衷。
Works